As if tracking scrambling superyachts sailing from one destination to another to avoid capture wasn't confusing enough, there's even more obscurity over the ownership of luxury yachts owned by oligarchs. The US has been scrambling to seize sanctioned billionaire Suleiman Kerimov's $325 million megayacht Amadea. However, its registered owner, Millemarin Investments, has named Eduard Khudainatov as its owner. The Amadee seizure saga has been going on for a while now. First, the luxury boat traveled for 18 days from Mexico and crossed the Pacific to find itself in rougher waters. Arriving in Fiji, Amadea ran into trouble arriving in the Pacific island nation without customs clearance.

It can be difficult to prove ownership of the magnificent yacht; however, Amadea is now banned from leaving Fiji waters under a restraining order granted by the country's high court in Suva. Fiji's Director of Public Prosecutions, Christopher Pryde, has asked the High Court to stop Kerimov's 347-footer from leaving Fiji. Even the crew on board, including the ship's captain, are believed to have been arrested and questioned.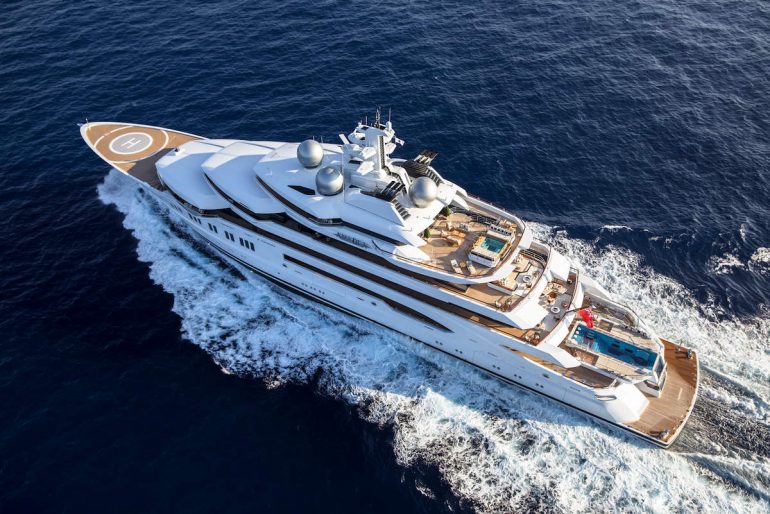 Defense attorneys say the vessel is owned by Eduard Khudainatov, former chairman and CEO of Kremlin-controlled energy giant Rosneft, who is not conveniently on any sanctions list. Let's explore the stranded yacht Amadea in detail: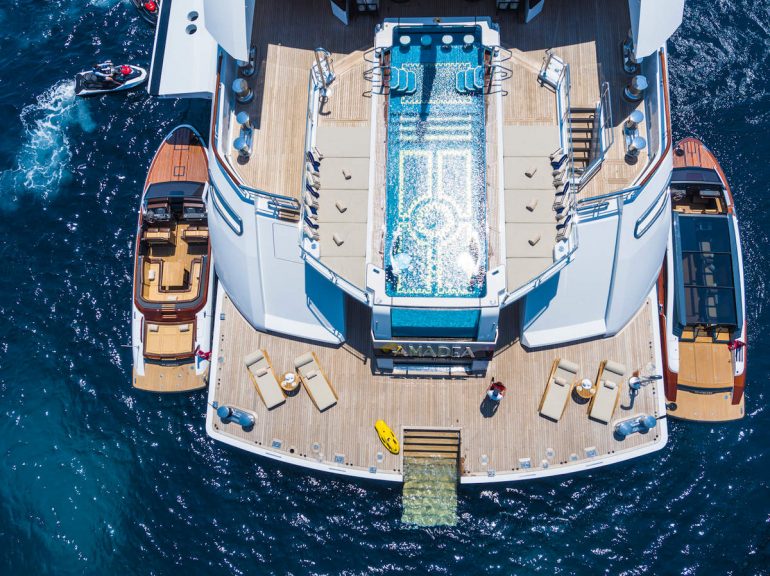 Amadea built by Lurssen is truly one of a kind!
Superyacht Amadea is an embodiment of elegance through special touches, not in one area, but in establishing the interiors on several eye-catching elements. It welcomes guests by opening onto an imposing double-height atrium. French designer Francois Zuretti gave the interiors a refreshing appeal with hand-painted Michelangelo clouds on the ceiling above the dining table, backlit whiskeys, brandies and rums in transparent bottles behind the bar.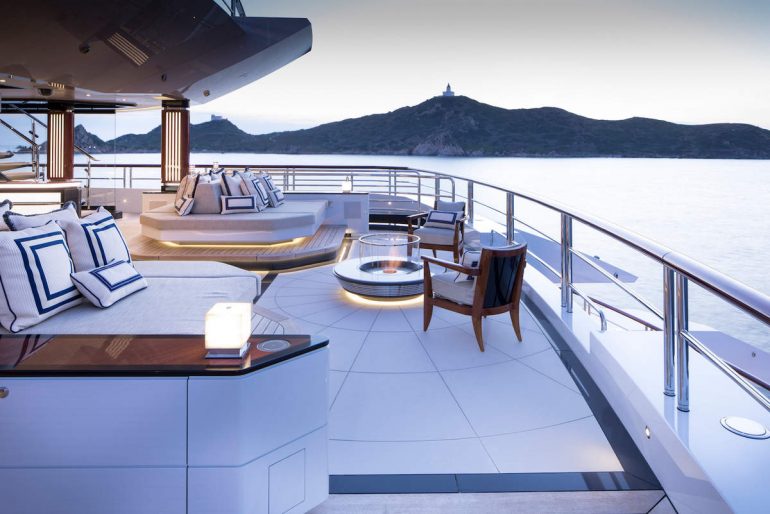 According to Boat International, outdoor life is an important theme on board. The main deck transforms into a party space with 20,000 watts of built-in speakers, lights and lasers. Witness the rare inclusion of a galley on the upper deck, gleaming with copper pots and pans, a huge grill area and even a lobster tank.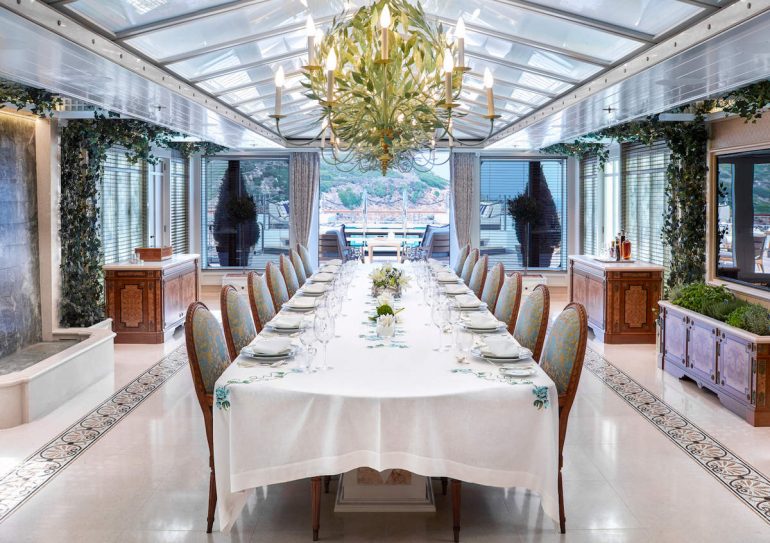 The winter patio, a magnificent space decorated with ferns and painted with vines, is a dining room that can accommodate up to 24 people. The spa pool also transforms into a stage where bands and DJs tune directly into the ship's sound system.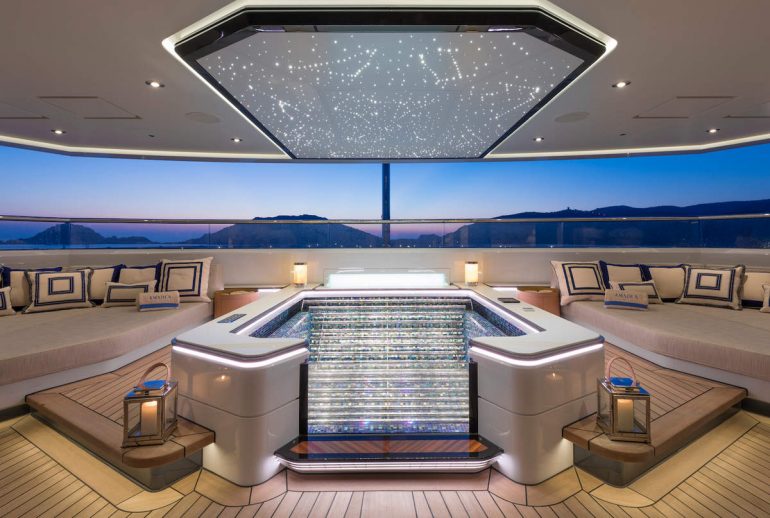 Inside, as one might imagine, the larger-than-life owner's deck houses an expansive walk-in closet, a bathroom with an ornate bathtub slightly recessed into the floor, a beauty salon and a gym. The ship is so luxurious that the roof of the owner's cabin recreates the night sky using 2,000 fiber optic cables.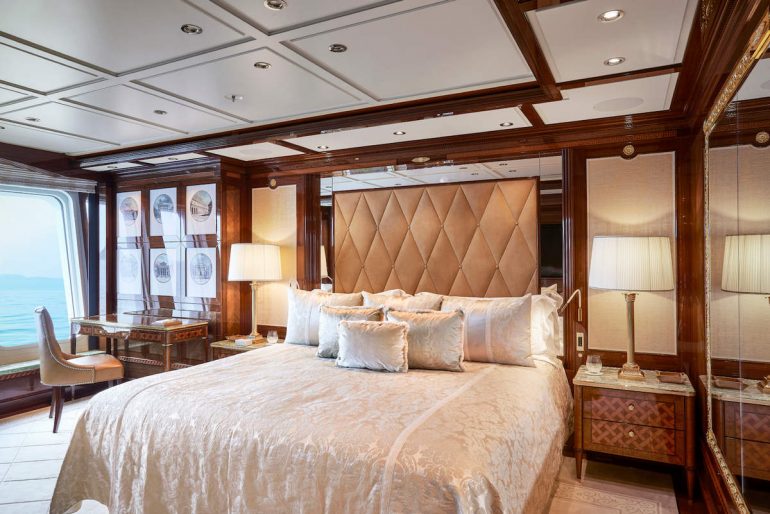 The owner's deck contains a separate lounge, bar and dining area. The magnificent boat has a large swimming pool, a jacuzzi and a helipad. Besides large private quarters, the schooner can accommodate 16 guests in eight opulently designed cabins using the finest materials such as marbles, rare woods, exceptional stones and wood inlays.
Who owns Amédée? Suleiman Kerimov or Eduard Khudainatov?
Suleiman Kerimov is worth $13.7 billion and attributes most of his wealth to a 76% stake in Russia's biggest gold producer, Polyus. The United States believes that $325 million of Amadea is the prized possession of sanctioned Russian oligarch Kerimov, who is close to the Kremlin and accused of money laundering and non-payment of taxes. In court, defense lawyers claimed the vessel belonged to Eduard Khudainatov, former chairman and CEO of Kremlin-controlled energy giant Rosneft. What comes to mind is how the lawyers conveniently listed Khudainatov as the owner. As Business Insider notes, he is not on a sanctions list and is close to the Kremlin like Kerimov.
It reminded us of the incident when Roman Abramovich passed ownership of the 165-foot-long, $40.3 million Aquamarine to his close friend precisely on the day Russia invaded Ukraine. In the case of Amadea, the vessel is registered in the Cayman Islands and is owned by Millemarin Investments, based in the Cayman Islands. The High Court ordered Fijian prosecutors to add Millemarin as a defendant in the case alongside Kerimov, according to AP According to Business Insider, the legal ownership of the Amadea was "still under investigation". US authorities believe the real owner is Kerimov behind all fronts. Besides the luxury ship Amadea, sanctioned billionaire Kerimov is also trying to save his 295ft superyacht "Ice" by not letting it dock anywhere. It has been lingering off the Italian coast for over a week now.