On Monday, December 27, two US Navy ships seized 385 kilograms of heroin worth around $ 4 million from a fishing vessel operating in the Arabian Sea. This is part of the International Task Force's ongoing mission to the region, which has resulted in a dramatic increase in drug seizures this year as well as arms smuggling within the same region.
USS Storm and USS Typhoon patrolling the Arabian Sea spotted the fishing vessel and stopped it for a customary inspection checking the vessel's flag and operations. U.S. Coast Guard personnel stationed aboard the two U.S. Navy ships conducted the flag check during which they identified the ship as stateless and discovered the illegal shipment of narcotics.
"This ban highlights the incredible work of our ships and sailors and serves as a reminder of the value of having naval forces forward deployed on site and ready," said Lt. Cmdr. Jordan Bradford, Typhoonthe commanding officer of Ocean Springs, Mississippi.
The United States Coastal Patrol Ships operated as part of an international task force called Combined Task Force (CTF) 150. The task force, which is one of three task forces under the 34 nation Forces combined maritime operations, increased regional patrols to locate and disrupt illegal maritime activity. Earlier in December, the same two American ships grabbed a huge cache of weapons of a fishing vessel operating in the same area of ​​the Arabian Sea.
In 2021, CTF 150 seized illegal drugs roughly valued at over $ 193 million during counter-narcotics operations. According to the command, this is a total value greater than the quantity of drugs banned by the task force over the previous four years combined.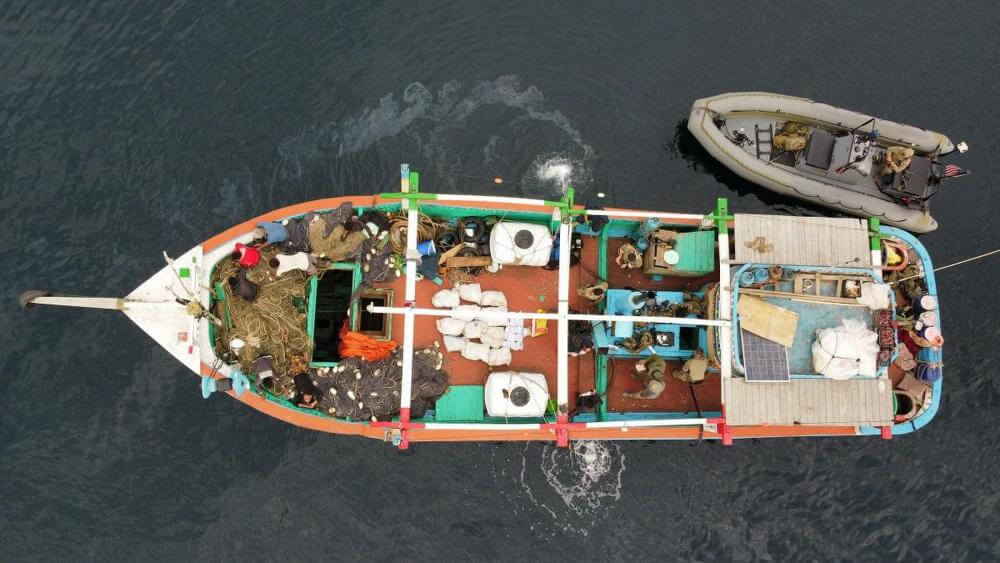 (US Naval Forces Central Command / US 5th Fleet photos)
"This latest seizure is a demonstration that the CTF 150 and its assigned surface and air assets are ready to conduct interdiction operations 365 days a year," said Royal New Zealand Captain Brendon Clark. , commander of the CTF 150.
International naval forces operating in support of CTF 150 regularly conduct maritime security and counterterrorism operations at sea outside the Persian Gulf to disrupt criminal and terrorist organizations and their related illicit activities, including movements personnel, weapons, drugs and charcoal. These efforts help to ensure that legitimate commercial shipping transits the region free from non-state threats.
The US Navy released the stateless fishing vessel and its nine crew members, who identified themselves as Iranian nationals, after seizing the drugs. The confiscated drugs were destroyed at sea by US forces.