As the inquest into the death of Thai TV actress Nida "Tangmo" Patcharaveerapong enters its second week, here are the latest developments…
• Three days of Christian memorial services for Tangmo (แตงโม) are scheduled for the weekend of March 11-13, from 6:30 p.m. to 8:30 p.m. each day, at Liberty Church Bangkok in Saphan Sung district, Bangkok. Despite his stormy public life, Tangmo was a firm believer in Jesus Christ and often spoke openly about his faith. In Thailand, less than 1% of the population is Christian, according to statistics.
• The police announced at their press conference on Tuesday that they would close the case of Tangmo's death on Friday 11 March. Most likely she will accuse boat owner "Por" and unlicensed skipper "Robert" of the original charges of operating an unlicensed boat. ship and recklessness leading to death. Police could also charge 'Job' with destroying and covering up evidence, after discovering that he had brought home a bottle of wine that was on the boat, in an attempt to cover up evidence. (More on that below.)
• Region 1 Deputy Police Chief, Major General Pol Udon Yomjaroen, who is the lead investigator in the case, said he would report the results of their investigation so far to the Chief of Police. the national police, General Pol Suwat Jaengyodsuk, on Tuesday afternoon. Suwat called for a prompt and thorough investigation.
• At a press conference on Monday, Thailand's national police chief Suwat Jangyodsuk said evidence showed the TV actress' death was likely an "accident".
• Police also said witnesses lied about their allegations. After interviewing each of the five witnesses who were on the speedboat, police said there were conflicting accounts, which did not match the findings of the forensic team. They plan to charge at least one more of the five shipmates.
"Each witness was interviewed separately and the stories they told us were different. Certainly at least one must have lied.
• On Sunday, the police again interrogated "Gatick", the manager of Tangmo, for more than 7 hours. When she left the police station at 9 p.m., she did not speak to reporters. Tangmo's other manager, "Anna", accused Gatick of lying to the police. In an interview, Anna claims that she went to the pier the night Tangmo drowned and spoke with the witness who was on the boat, but Gatick acted strangely and told her to go home. she. Anna had this message for Gatick:
"The truth will set you free."
• Both women are listed as the actress' managers on her official Instagram account. Anna's IG is public, while Gatick's IG has been set to private. It's unclear who's been running Tangmo's IG account since his death, but netizens noted that his number of posts increased from 2,306 to 2,299, while his number of followed accounts increased by one, from 1. 128 to 1,129.
• Meanwhile, the five witnesses on the boat reportedly denied the allegations of wrongdoing or intent to kill. Police last week said they would likely charge the five with negligence causing death and misrepresentation. So far, police have only charged Por and the Robert with operating a vessel without a license and negligence resulting in death.
• The witness known as "Robert" allegedly refused to give a sample of his hair to the police for DNA testing. Last week he appeared to escape police questioning and boat re-enactments, claiming he had high blood pressure and high blood pressure. (Heavier rumors about him abound, but we'll stick to the facts as we currently know them.) Robert also told police he recently had a hair transplant, after Thai netizens put questioned his identity and whether he was in fact the same man who was on the boat shown in the CCTV footage.
• A famous lawyer, Sittha Beerbangkerd, says he wants in on the case and has offered to help Tangmo's older half-brother, Dayot "Toi" Detjob, find out the truth about his sister's real death. You are the one who found Tangmo's body in the Chao Phraya River on Saturday after he drowned.
• Meanwhile, the lawyer for Tangmo's mother, Panida Sirayootyotin, has said she wants a former head of the Central Institute of Forensic Sciences to perform a new autopsy on her daughter as she doubts the results of the first. The mother previously said she would forgive Por and Robert for their role in her daughter's death and would accept a gift of 30 million baht, according to her own calculations.
• Together, Tangmo's brother and mother filed a complaint with the Nonthaburi police asking for an investigation into the incident, as they do not believe his death was an accident.
• Santhana Prayoonrat, a former police lieutenant colonel, became another witness in the Tangmo case. He said this story had a big, high-profile wig behind it, sparking a lot of speculation on social media. Santhana is due to testify to police on Tuesday about what he knows.
• Police have already interviewed at least 71 witnesses in their ongoing investigation into Tangmo's death, according to Nation Thailand. Tangmo drowned in the Chao Phraya River on the night of February 24. So far, they have not been able to determine if Tangmo accidentally fell into the river, jumped to escape, or was pushed or thrown overboard. There is also uncertainty as to the cause of the large gash on his thigh and other scapes on his leg, although a new theory states that the ship's rudder severed his thigh. Meanwhile, police continue to consider the five people aboard the boat as witnesses, not suspects.
• Over the weekend, Thai netizen sleuths, known as 'Pantip sleuths', uncovered more CCTV footage and leaked it online, showing what appears to be Tangmo jumping off the boat as he it passes Thewet Pier. Another video emerged showing Tangmo's hand sticking out of the water for a white buoy on the side of the boat, which a man on board (apparently Robert) pulls out.
• Other CCTV footage leaked online shows the five boat mates meeting after the incident at 2am at a gas station about 5 kilometers from the NBC Yacht Club on Rama V Road. In the video, they are seen chatting with a sixth person who was not on the boat. We do not know who this person was or what was said between them. There is no audio recording.
• On Sunday, divers from the Marine Police Division investigated where Tangmo fell again. They reportedly found two items in the Chao Phraya River near Phibul Songkhram Pier and, which were handed over to the forensic team. But police have not revealed who they are or whether they are connected to the case. It is believed the divers were looking for items that one of the men, allegedly Job, allegedly threw into the river after Tangmo fell from the boat, including Tangmo's wine glass, in an apparent destruction of evidence.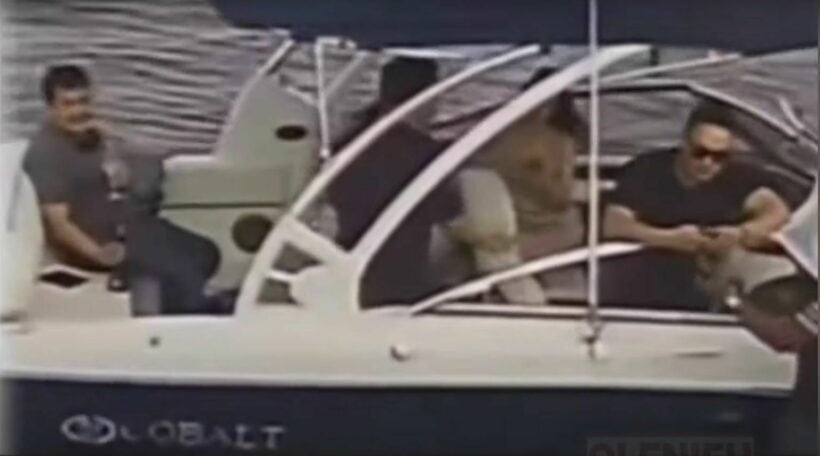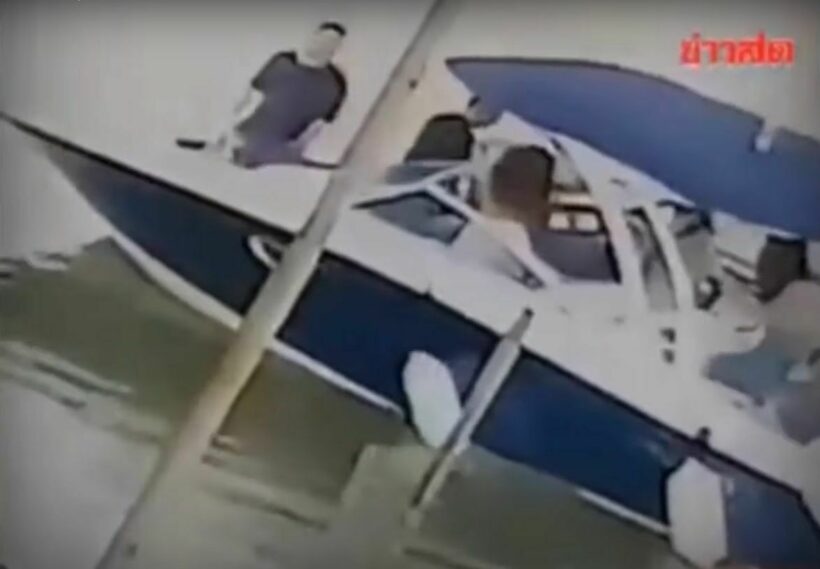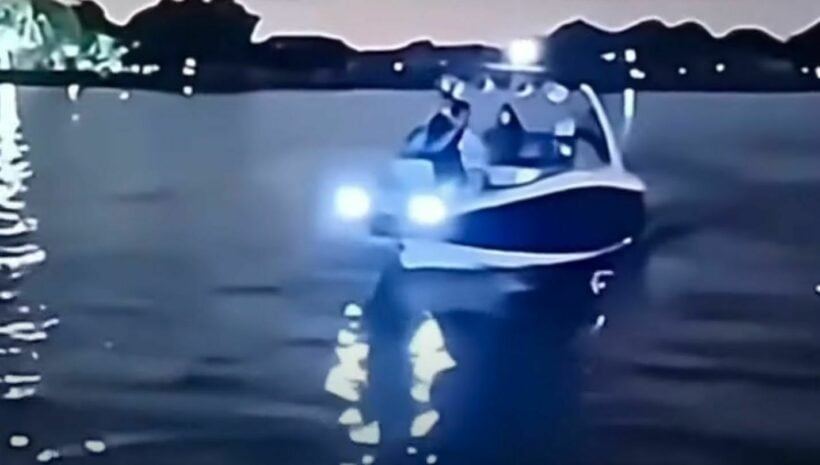 PHOTOS: Screen grabs from leaked CCTV footage showing the boat party before (1-3) and after (4) the incident on the Chao Phraya River on the night of Thursday, February 24 2022.
SOURCES: Bangkok Post | Nation Thailand | Instagram | anon "Pantip Detectives"