Flying the Japanese flag, the M / V Frontier Harvest from Iskenderun, Turkey, was the first ship of 2022, arriving at 12:22 p.m. on January 4. The vessel was in ballast and will depart this week for Rotterdam, the Netherlands, with a cargo of 172,360 tonnes of iron ore pellets and concentrate from Iron Ore Company (IOC). Owned by NYK Line, the vessel has a crew of 20 on board.
Due to the health restrictions in effect with the COVID-19 pandemic, the prestigious cane bearing the Port of Sept-Îles image was given to Captain Edgar Sulpecio Carvajal LLorente by Iron Ore Company Marine Services. The traditional New Year's ceremony at the Port, where the maritime industry and the business community of Sept-Îles usually meet to mark the arrival of the first ship, could not take place for a second consecutive year, due to of the pandemic.
Now in its 35th year, the tradition marks the arrival of the first ship of the year to call in port. To be eligible, the vessel must come directly from a foreign country and be bound for a foreign destination.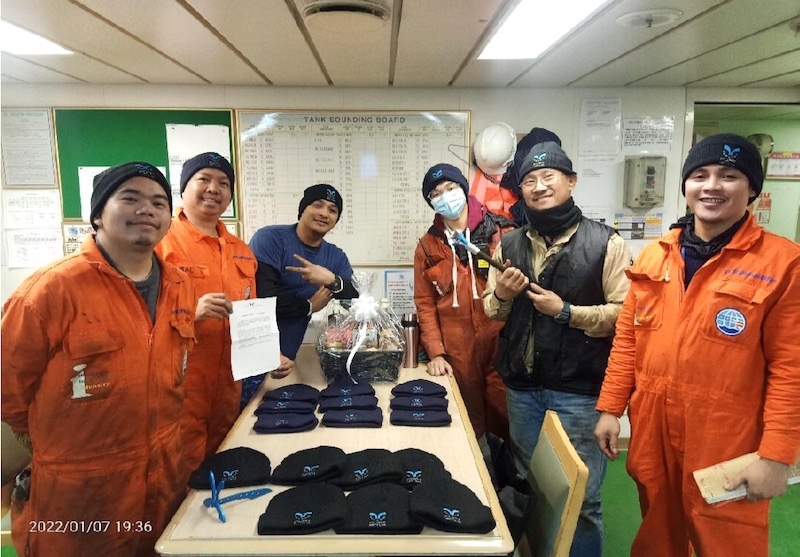 THE PORT OF SEPT-ÎLES CANNE
Remember that it was in 2012, on the occasion of the 25th anniversary of the award, that the traditional gold-headed cane was specially revisited to present a more contemporary version highlighting the riches of the region. Inspired by a 3D version of the Port of Sept-Îles logo, this new edition of the polished and anodized aluminum cane is stylishly reminiscent of the blue highway. The redesigned pommel contains a shard of iron ore whose luster is reflected in an acrylic hemisphere. The distinctive component of gold has not been overlooked in the new concept of the trophy. The seven stars illustrated on the logo of the Port of Sept-Îles and recalling the seven islands in the bay have been reproduced in 10 karat gold on the ring of the cane.
Equipped with diversified facilities and at the cutting edge of technology, the port of Sept-Îles is the largest iron ore handling port in North America, with an expected volume of nearly 40 million tonnes for 2022. It is also recognized as the most important terminal port for the primary aluminum industry in the Americas for its volume of activity. The Sept-Îles port facilities play a vital and strategic role in the economy of Eastern Canada. The Port is also deeply committed to sustainable development by being the first environmental observatory of the St. Lawrence to monitor the maritime ecosystem.