A refrigerated cargo ship leaving the port of Hakata in southern Japan, near Fukuoka, made a navigation error causing it to hit the sea wall at the entrance to the port. The ship's bow got stuck on the breakwater with reports of a small oil leak.
Japanese Coast Guard say the 10,600 dwt refrigerated freighter Lady Rosemary left the wharf at 11:30 p.m. on November 28 and about 15 minutes later struck the breakwater. Reports said it was a clear night and calm seas. The 22 crew members aboard the vessel were not injured.
The Lady Rosemary, a 13-year-old vessel registered in Panama is operated by the Japanese Doun Kisen. The ship was bound for Kobe, Japan at the time of the accident. The ship was carrying a cargo of bananas.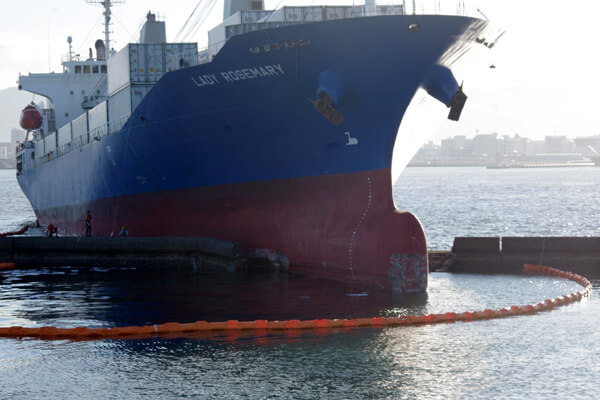 After the accident, a small oil leak was detected and the Japanese Coast Guard responded by installing a barrier. They later reported that they believed the ship's oil leak had been stopped and it was moving away from the port. An aerial survey was carried out by helicopter.
The Fukuoka Coast Guard Bureau is investigating the cause of the crash and is considering indicting the ship's operator on suspicion of professional negligence endangering shipping traffic.
The port was able to remain open and on the afternoon of November 29, rescue teams were on the scene to consider how to remove the vessel from the breakwater.
This is the second crash of a Doun Kisen ship in waters off Japan in recent months. In August, another bulk carrier, the Crimson polaris, based outside the port of Hachinohe in a storm. The ship dragged the anchor and eventually broke in two, partially sinking outside the harbor, dumping some of its cargo of wood chips and oil.