South Korean shipbuilder Daewoo Shipbuilding & Marine Engineering (DSME) and fellow steelmaker POSCO have taken a new step in their technology collaboration to build environmentally friendly dual-fuel powered vessels.
After more than 10 years of joint research with POSCO, DSME has applied high manganese steel to LNG fuel tanks for the first time in the global shipbuilding industry.
LNG fuel tanks are the basic equipment of eco-friendly dual-fuel ships.
On June 16, DSME held a ceremony to install IMO Type C LNG fuel tanks using high manganese steel on a Very Large Crude Oil Carrier (VLCC).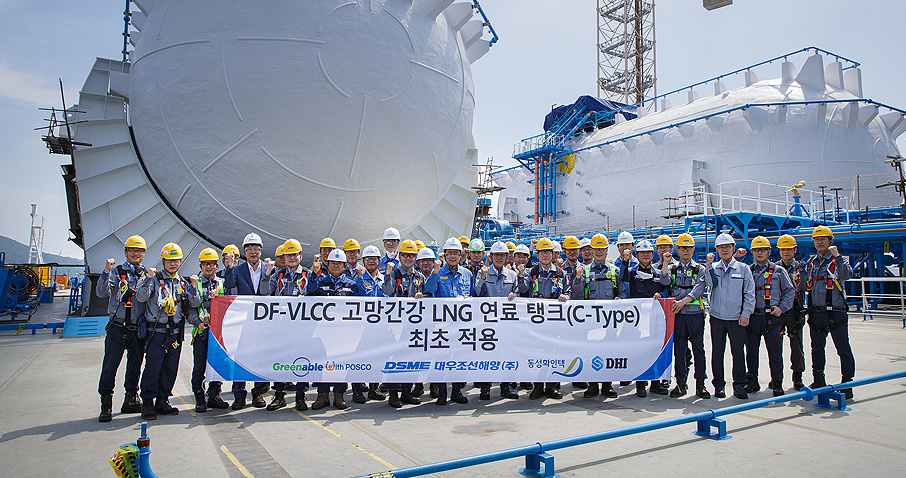 Until now, materials such as Invar, aluminum and stainless steel have been used for cargo holds and fuel tanks that withstand liquefied natural gas under cryogenic conditions (-163℃).
However, they had drawbacks such as high price, difficult manufacturing process, and low strength. The new high manganese steel LNG tank can overcome these shortcomings. It has a lower price than conventional materials and has high strength and wear resistance as well as good performance at cryogenic temperatures.
For this reason, high manganese steel has captured the industry's attention as a next-generation material for LNG fuel tanks. The two companies have jointly developed tank-related technologies throughout the process, from pre-treatment and welding to the use of high manganese steel as LNG tanks.
Finally, after verifying the processability and mass production, they managed to install it on board ships. Accordingly, the two companies have established the Korean LNG fuel tank ecosystem focusing on high manganese steel to ensure domestic competitiveness in materials, parts and equipment industries.
Recently, as environment-friendly policies such as carbon dioxide reduction are strengthened around the world, ships are also turning to LNG as fuel. In such an environment, all vessels ordered from DSME this year are environmentally friendly vessels that use LNG as fuel.
In addition, the technology of manufacturing LNG tanks from high manganese steel would be valuable to the Korean shipbuilder as it is a purely domestic technology, DSME explained.
In the future, if price competitiveness is ensured by mass production of high manganese steel. Moreover, technological independence will be possible in the production of LNG holds and the technology is valued as an excellent stepping stone to enhance the competitiveness of the Korean shipbuilding industry.
"DSME… took it a step further this time. We believe this will lead to enhancing the competitiveness of the entire shipbuilding industry in Korea, as it can expand its use throughout the entire shipbuilding industry," To park Du SeonPresident and CEO of DSME, commented.
"We are… delighted with the success of the mass production of high manganese steel, which is a unique material in Korea, for LNG-powered vessels. Finally, the supply chain of high manganese steel LNG storage tanks, including steelmaker, shipbuilder and tank manufacturers, has been completed. I believe this will play an important role in the future market for environmentally friendly vessels," Jong-kyo Choiexecutive vice president of POSCO, said.
Register for Offshore Energy Expo & Conference: